What is the LEGS Project?
Established in 2005, the LEGS Project is overseen by a Steering Group of individuals from the African Union, the Food and Agriculture Organisation of the United Nations, the International Committee of the Red Cross, the Overseas Development Institute, Sphere India and Vetwork UK. Funding for the LEGS Project comes from a range of donors and through in-kind contributions, but with all donor support provided on the condition that LEGS remains independent. LEGS activities are coordinated by Vetwork UK.
The key activity of the LEGS Project is the production and dissemination of the LEGS Handbook, supported by a global training programme and other awareness raising activities.
LEGS Handbook
The LEGS Handbook provides standards and guidelines for appropriate and timely livestock-based livelihoods responses in emergencies, using a participatory and evidence-based approach.
Training Programme
The LEGS Training Programme focuses on the roll-out of a series of regional Training of Trainers (TOT) courses across Africa, Asia and Latin America.
Awareness
LEGS has developed a half-day session to raise awareness about the purpose and contents of LEGS; to share information on LEGS activities; and to give a taste of the LEGS training process.
From early 2000, various agencies and individuals involved in livestock relief work began to question the quality and professionalism of their interventions. For example, inputs such as emergency veterinary care often arrive too late to be of any value and when delivered to people free-of-charge, undermine local service providers. In these situations, although some animals may have been saved in the short-term, the capacity of local services to provide more long-term support is damaged by the relief response. These kinds of problems are compounded because donors and NGOs often lack in-house livestock expertise and decisions on livestock programming are made without professional input.
Over time, these concerns were linked to current thinking on livelihoods and the concept of 'saving lives and livelihoods'. Some agencies started to explore ways to deliver emergency livestock de-stocking programmes using local traders. Others began to deliver emergency veterinary care through the private sector.
The LEGS process brought these and other initiatives together to produce a single set of international standards and guidelines for livestock emergency interventions. From a global perspective, the most pressing need is to improve livestock relief programming with communities who rely heavily on livestock for their social and economic well-being. LEGS covers livestock interventions in these areas, but also addresses livestock support to settled farming communities and livestock kept by people in urban areas.
Climate change is resulting in more frequent and diverse types of disaster. Especially vulnerable are livestock-dependent communities in fragile arid and semi-arid environments who are experiencing increasing drought followed by severe flooding. LEGS addresses these and other types of slow and rapid onset emergency, as well as those compounded by conflict.
Management & Funding
LEGS is managed by a Steering Group which coordinates and oversees the production and uptake of LEGS. The Steering Group coordinated the production process for the LEGS handbook. In the current post-publication phase, the Steering Group continues to oversee all LEGS activities.
Read More
Scope & Content
LEGS has a global scope and focuses on the process of identifying needs and analysing which interventions are most appropriate to support the livelihoods of the affected populations, at which times, and in which emergencies.
Read More
Evidence-Based Approach
LEGS draws on evidence-based good practice from around the world. The LEGS Project tracks and uses evaluations, reviews and impact assessments of livestock and livestock-related projects as part of this evidence base.
Read More
LEGS is recognised as THE handbook to guide livelihoods-based livestock interventions.

Astrid de Valon — Former Regional Humanitarian Coordinator, Trocaire, East Africa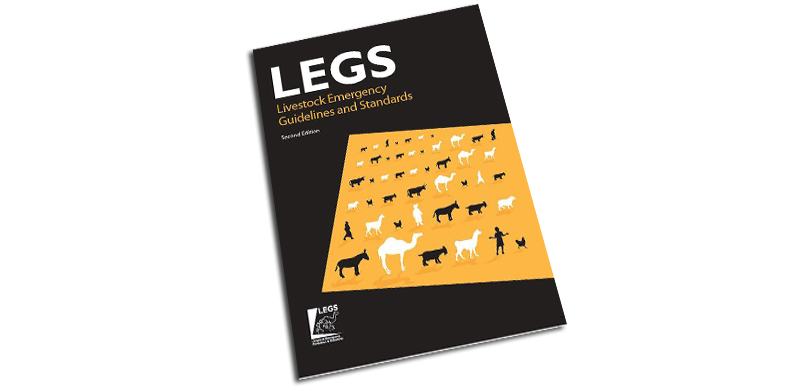 The LEGS Handbook provides standards and guidelines for appropriate and timely livestock-based livelihoods responses in emergencies, using a participatory and evidence-based approach. The Handbook was produced through a broad consultation process, drawing on good practice worldwide. The LEGS Handbook is a companion to The Sphere Handbook alongside other humanitarian standards which make up the Humanitarian Standards Partnership.
Download Now