Half-Day Awareness Raising Session
Half-Day Awareness Raising Session
LEGS has developed a half-day awareness-raising session targeted at humanitarian donors, policy makers, decision makers and programme developers. This session has been delivered to European Commission Humanitarian Aid Office (ECHO) and the European Commission (EC) delegation in Nairobi; ECHO and EC in Brussels; the Food and Agriculture Organisation (FAO) in Rome; New Zealand Aid and NGO staff in Wellington; Office for Foreign Disaster Assistance (OFDA) staff in Washington DC; the International Committee of the Red Cross (ICRC) and the International Federation of Red Cross and Red Crescent Societies (IFRC) staff in Geneva; and FAO and other international agency staff in Panama City.
The aims of the session are: to raise awareness about the purpose and contents of LEGS; to share information on LEGS activities; and to give a taste of the LEGS training process.
What is included
A presentation on the background to LEGS
An exercise from the LEGS training on distinguishing between standards, key indicators and guidance notes
An exercise on livelihoods and the impact of disasters (slow and rapid onset) on livestock
An exercise to complete a PRIM (Participatory Response Identification Matrix) in groups in response to a case study emergency
Discussion on the current LEGS training programme and future activities
It is planned to deliver this half-day awareness session in each forthcoming Trainer of Trainers (TOT) location, in order to raise awareness about the planned TOT and about the LEGS approach. For more information or to request a half-day session, please contact the LEGS Training Coordinator.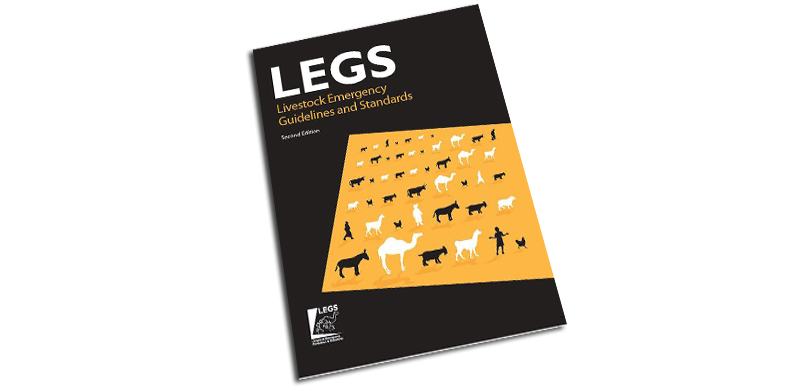 The LEGS Handbook provides standards and guidelines for appropriate and timely livestock-based livelihoods responses in emergencies, using a participatory and evidence-based approach. The Handbook was produced through a broad consultation process, drawing on good practice worldwide. The LEGS Handbook is a companion to The Sphere Handbook alongside other humanitarian standards which make up the Humanitarian Standards Partnership.
Download Now