Join us for the global launch webinar!
28 June 2023 at 9:30 a.m. BST
Everyone in the LEGS Community of Practice is welcome to join. We'll share the speaker details closer to the date. Register now.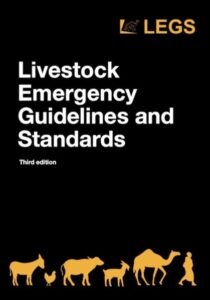 3rd Edition Content
An extensive public consultation process has helped update the technical Standards, Key Actions and Guidance Notes in this third edition. There is greater focus on the principles that underpin LEGS, as well as step-by-step guidance on how to use the LEGS tools to develop an emergency response plan. The Handbook is useful for all livestock specialists and humanitarians involved in emergency preparedness, response and recovery.
The first three chapters focus on general principles and decision making:
Chapter 1 introduces LEGS and provides an overview of emergencies, livestock and livelihoods.
Chapter 2 presents the eight LEGS Principles that underpin all LEGS-based interventions
Chapter 3 provides step by step guidance and tools for emergency response planning
The remaining chapters focus on the six technical intervention areas (namely: feed, water, veterinary support, shelter, livestock offtake, and the provision of livestock), and include:
The implications of selecting a particular technical option or activity
Links to the LEGS Principles and livelihoods objectives
Standards, Key Actions and Guidance Notes
Indicators for monitoring and impact assessment
Sources of further information, including existing guidelines, technical briefs and toolkits
The 3rd edition is also being translated into French, Spanish and Arabic. Those versions will be released in September 2023.