LEGS is a not-for-profit organisation registered in the UK and managed by a Board of Trustees, supported by an Advisory Committee, which together  coordinate and oversee the production and uptake of LEGS. The Advisory Committee coordinated the production process for the LEGS handbook, providing quality control, facilitating the consultation processes with a wide range of stakeholders, and overseeing the publication process. In the current post-publication phase, the Trustees and the Advisory Committee continue to oversee all LEGS activities, including the development and roll-out of the training programme, the maintenance of LEGS core functions and the establishment of a network of interested practitioners.
The following organisations and individuals form the LEGS Advisory Committee:
Wendy Fenton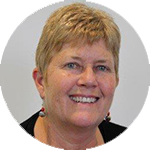 Wendy has over 30 years of operational, management and advisory experience in humanitarian and development programming with NGOs (VSO and Save the Children) and donors (USAID/OFDA and CIDA) across a wide range of sectors primarily in Sudan, South Sudan and Ethiopia.
Before joining ODI in 2009, Wendy worked as an independent consultant focusing on fragile states, specifically issues related to NGO programming, funding mechanism performance and safety nets.  ODI regularly calls on her expertise on South Sudan to inform ongoing work there. Wendy also serves on the steering groups of the International Humanitarian Studies Association (IHSA) and the Enhancing Learning and Research for Humanitarian Assistance (ELRHA). Wendy is currently the Coordinator of the Humanitarian Practice Network  – hosted by the Humanitarian Policy Group at the Overseas Development Institute in London.
Dr. Mathias Lutz Frese

Mathias has worked overseas mainly in countries in conflict, initially with the NGO Cap Anamur in Bosnia, Somaliland and Rwanda. He joined the International Committee of the Red Cross (ICRC) in 1996 to continue combining humanitarian work with his professional field as a Veterinarian, but also as Livelihoods and Economic Security Specialist in a broad palette of programs and contexts in the Horn of Africa, the South Caucasus, Pakistan and the Philippines. He worked as Economic Security Program Management / Coordination, and spent 7 years in the ICRC Headquarter Geneva as Head of Sector for the Horn of Africa and Reference Veterinarian. Mathias holds a doctoral degree in Veterinary Medicine and a postgraduate Diploma in Animal Health Management and Tropical Veterinary Medicine (FU Berlin). Mathias is currently the ICRC Regional Livestock Specialist in Nairobi. Mathias is Chair of the LEGS Advisory Committee
Dr. David Hadrill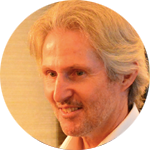 David worked with pioneering community-based animal healthcare projects in India and Kenya in the 1980s. He has undertaken long-term contracts in India, the Caribbean (responsible for an island's veterinary services and control of the tick, Amblyomma variegatum), Mongolia (team leader of EU project to strengthen national veterinary services) and the Horn of Africa (support to marketing livestock from pastoralist areas of Ethiopia, Djibouti and Somalia). He has undertaken many shorter assignments for FAO, World Bank, Asian Development Bank and NGOs. This work includes project evaluation, project management, control of transboundary animal diseases including avian influenza, participatory training, and disaster relief, and he authored 'Horse healthcare: a guide for animal healthworkers and owners'.
He was a focal point author of the LEGS Handbook, is a LEGS trainer-of-trainers and currently a Director of Vetwork UK, which he represents on the LEGS Steering Group. David has a BVSc from the University of Bristol, an MSc in Tropical Veterinary Medicine from the University of Edinburgh, and is a Member of the British Veterinary Association Overseas Group. David is currently an Independent Veterinary Consultant, based in the UK and Thailand.
Dr. Andy Catley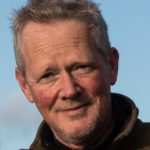 Dr. Andy Catley's career includes 17 years working in the Horn of Africa, focussing in areas affected by conflict, drought and complex emergencies. In 2005 he co-initiated and designed the LEGS project and was Principal Investigator on grants to support LEGS until 2015. He chaired the LEGS Steering Group from 2005 to 2015. He is a veterinarian and epidemiologist, and a Research Director at the Feinstein International Center, Tufts University.
Dr. Piers Simpkin
Piers has 30 years' experience in research, emergency response and development with NGOs, universities, ICRC and United Nations in the Horn of Africa, Middle East and United Kingdom, specialising in arid and semi-arid livelihoods and production systems. Piers is particularly interested in pastoralist livelihoods, especially in improving the emergency response mechanisms. Piers has a BSC in Environmental Science from the University of London, and a MPhil (London) and PhD (University of Newcastle-upon-Tyne) both based on camel production. As well as running his own herd of camels, Piers is currently Livestock Sector Head for FAO Kenya.
Vikrant Mahajan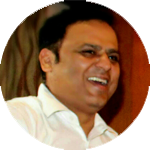 Vikrant has an interdisciplinary background in Engineering, Public administration and Organisation Development. He has a rich experience of working with governments, UN agencies, corporates and civil society organisations in diverse contexts. He is an experienced facilitator and has trained senior professionals on a range of subjects including risk management, project management, humanitarian quality and accountability standards and team building.  He was also a commissioned Officer in the Corps of Engineers, Indian Army for 9 years, when, alongside civil authorities he participated in different operations in complex humanitarian situations. Vikrant is a LEGS Trainer and has worked with World Animal Protection and other livestock organisations in India to support humanitarian and DRR activities and assessments.  He has been a member of the Sphere Project Board since 2012 and is the coordinator for SATHI (South Asia Together for Humanitarian Imperative), a network of country level humanitarian/DRR networks. Since 2007 Vikrant has been CEO of Sphere India, a national coalition of humanitarian agencies in India.
Emmanuella Naanyu Olesambu
In the last 20 years Emmanuella has worked with community based NGOs in Northern Kenya and south and central Somalia developing and implementing humanitarian and development programmes on livestock and natural resources management. She joined FAO in 2007 working in Kenya and later moved into disaster risk reduction and resilience work, focusing mainly on pastoral programming and policy engagement at cross border and regional level with FAO's subregional emergency office for Eastern Africa and the Intergovernmental Authority for Development (IGAD). Emmanuella is passionate about livestock and pastoral issues, and keen to facilitate linkages between community institutions, national and regional level policy makers and partners. She holds a Bachelor of Science Degree in Natural Resources Management from Egerton University, Kenya and a Masters in Organizational Leadership from International Leadership University, Kenya (formerly the Nairobi International School of Theology – NIST). Emmanuella is currently the focal person for East and Southern Africa for FAO's Technical Cooperation Emergency and Rehabilitation Division, supporting the delivery of FAO's corporate Resilience programme.
Cathy Watson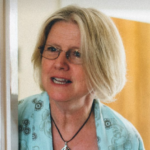 Cathy is a social development consultant working on pastoral development with a particular focus on pastoral livelihoods, and gender and pastoralism. Her consultancy experience includes participatory research and writing; evaluations; training and capacity building; strategic planning; and workshop facilitation. Cathy's long-term field work experience includes 4 years with Turkana pastoralists in Kenya; 4 years with Karimojong pastoralists in Uganda; support to small-holder farmers in Zimbabwe and Kenya; and urban poverty and livelihoods in Ethiopia. Her employment experience includes social science support to NGO development worker teams, NGO middle management, and leading research teams. She has a Bachelor degree from the University of Bristol and a Masters degree in Social Anthropology from the University of Manchester. Cathy is the LEGS Coordinator and an Independent Consultant.
LEGS has been funded thus far (including in-kind support*) by the following organisations, whose contributions are gratefully acknowledged: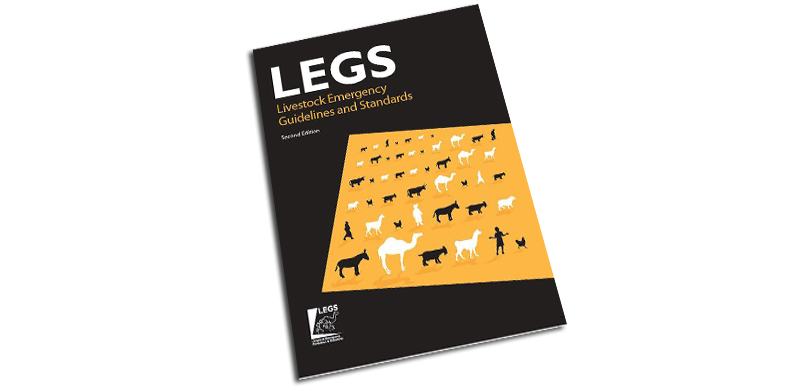 The LEGS Handbook provides standards and guidelines for appropriate and timely livestock-based livelihoods responses in emergencies, using a participatory and evidence-based approach. The Handbook was produced through a broad consultation process, drawing on good practice worldwide. The LEGS Handbook is a companion to The Sphere Handbook alongside other humanitarian standards which make up the Humanitarian Standards Partnership.
Download Now