COVID-19 RESPONSE: LEGS GUIDANCE NOTE
The COVID-19 pandemic is impacting on lives and livelihoods across the globe, as well as affecting all aspects of development and humanitarian endeavour. LEGS has produced a short Guidance Note which summarises how the LEGS Approach can be applied in the current situation, both to inform on-going operations and also to guide preparations for the pandemic's eventual recovery phase.
This is a working document and we welcome feedback from the field on current experiences, good practice and lessons learned so that we can update and improve this Guidance Note – please contact the LEGS Coordinator.
Click here to download the Note
Supporting livestock livelihoods during the Coronavirus crisis
With meetings and training courses now on hold because of the current Coronavirus crisis, we're all having to find ways to work differently. At the same time, livestock keepers around the world will continue to be vulnerable to disasters, both natural and man-made, as well as dealing with the effects of COVID-19.
If you are in lock down and unable to go out, this may be an opportunity to review some of the LEGS resources that may be useful in the future, when operational work can begin again and livestock keeping communities may be trying to recover from the effects of this and other crises.
Here is a reminder of some of the LEGS resources which may be useful at this time as a refresher for you or to help you to provide support or training to others.
Coronavirus and humanitarian response
The Sphere Handbook and the other Humanitarian Standards Partnership (HSP) initiatives, including LEGS, offer guidance on the minimum response all crisis-affected people have the right to expect. They establish what needs to be in place for affected populations to survive and recover with dignity.
Sphere and the HSP have produced a short guide to applying humanitarian standards to fight COVID-19. To download the guide, click here.
For more information and to download the guide in other languages, go to the Sphere website.
To see additional HSP resources on the COVID-19 response, click here.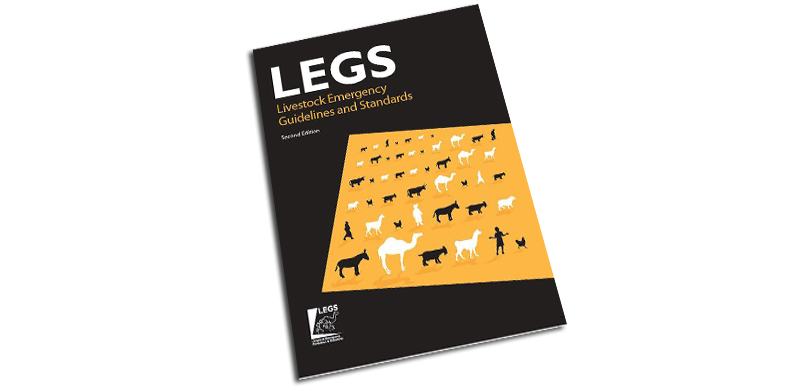 The LEGS Handbook provides standards and guidelines for appropriate and timely livestock-based livelihoods responses in emergencies, using a participatory and evidence-based approach. The Handbook was produced through a broad consultation process, drawing on good practice worldwide. The LEGS Handbook is a companion to The Sphere Handbook alongside other humanitarian standards which make up the Humanitarian Standards Partnership.
Download Now