LEGS Training of Trainers (TOT) Courses
LEGS has the capacity to organize LEGS Training of Trainers (TOT) courses commissioned by interested organisations. In recent years, TOTs have been delivered for PRAPS in West Africa, Prodel in Cameroun, USAID/TOPS in Burkina Faso, FAO in Pakistan, World Animal Protection in Vietnam, and the Canadian Foodgrains Bank in Ethiopia. If you are interested in commissioning a TOT for your organisation or partners, please contact the LEGS Coordinator.
Who Should Apply?
LEGS TOTs are aimed at providing the skills and materials to enable participants to become LEGS Trainers, who can then deliver the 3-day LEGS Training course in their own organisations and countries. LEGS does not directly support LEGS Training courses at national and local level, but equips the LEGS Trainers to respond to demand for LEGS Training in their own organisations and contexts.
Applications are welcome from livestock and humanitarian specialists working in emergencies, including from international and national organisations, government and independent consultants, who will be in a position to roll out LEGS Training in their own country.
Selection Criteria
Experience of delivering participatory training courses
Livelihoods or livestock experience in emergencies
Commitment to carry out LEGS Training Courses at least twice a year on demand
Commitment from employer (where applicable) to release Trainer to carry out LEGS Training Courses at least twice a year as required, in addition to any internal trainings that may be carried out
Proficiency in written and spoken English
Familiarity with LEGS (experience of applying LEGS in the field desirable)
Familiarity with Sphere (desirable)
For more information see the LEGS Training Policy Summary and the relevant TOT application form.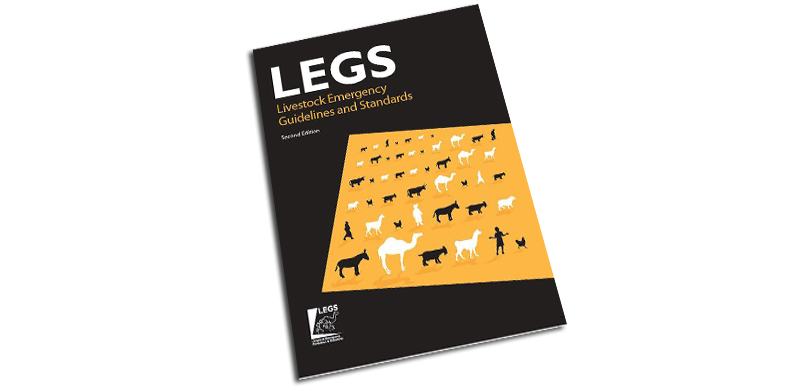 The LEGS Handbook provides standards and guidelines for appropriate and timely livestock-based livelihoods responses in emergencies, using a participatory and evidence-based approach. The Handbook was produced through a broad consultation process, drawing on good practice worldwide. The LEGS Handbook is a companion to The Sphere Handbook alongside other humanitarian standards which make up the Humanitarian Standards Partnership.
Download Now