LEGS will be taking part in a webinar that will focus on the importance of sta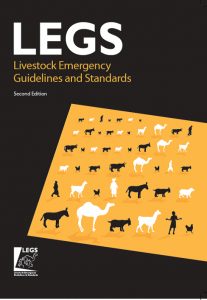 ndards in humanitarian aid and longer-term development. As practical examples of the structure and use of standards, the webinar will examine the Minimum Economic Recovery Standards – the industry consensus on market-based standards for economic recovery programs, and the Livestock Emergency Guidelines and Standards (LEGS) – the humanitarian standard on livestock protection in emergencies. Presented in collaboration with the Humanitarian Standards Partnership, the webinar will highlight:
The importance of using Standards in humanitarian aid and development;
The purpose and aim of the Humanitarian Standards Partnership;
How Standards are structured to promote coherence and complementarity among standards – using the MERS and LEGS as examples.
The Webinar will be on April 19, 2018 between 9:00am – 10:00am (US EDT). For more information and registration please click here.