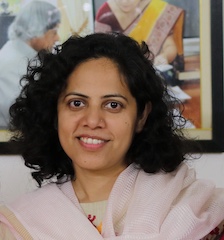 Dr. Eilia Jafar has joined the board of trustees of the Livestock Emergency Guidelines and Standards (LEGS) for a two-year term. LEGS is a non-profit organisation that seeks to improve the quality and livelihoods impact of livestock-related projects in humanitarian situations.
"We're delighted to welcome Dr. Jafar to the LEGS board of trustees," said Wendy Fenton, Chair of the board. "She is a natural networker and has extensive governance, senior management, and organisational development experience at country, regional, and international levels, which will all be of enormous benefit to LEGS."
Dr. Jafar is a development and humanitarian professional with over 20 years of experience. She has authored several academic papers and articles on disaster management, business continuity management, quality, accountability, and gender in emergencies in national and international journals and newspapers.
"There is ample evidence of the impact of disasters on livelihoods globally," said Dr. Jafar. "Yet, the limited attention of humanitarian actors to livestock keepers remains a concern. LEGS has done commendable work in improving the quality of livestock programs, and I am honoured to join the LEGS board of trustees."
Dr. Jafar has worked with CARE, International Federation of Red Cross and Red Crescent Societies (IFRC) — South Asia and India delegations — and the United Nations Development Programme (UNDP). In addition to her independent assignments, she is currently the Chief of Programs at SaveLIFE Foundation. Dr. Jafar holds a doctoral degree in Business Continuity Management.