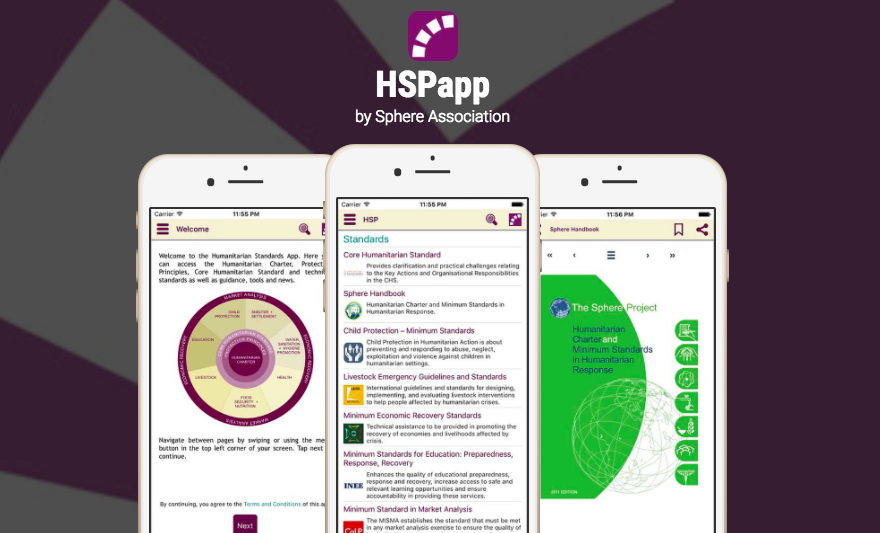 The new Humanitarian Standards Partnership app (HSPapp) provides the humanitarian sector's flagship standards and guidance in a single, free-of-charge app. Designed for field practitioners providing humanitarian aid in disaster and conflict situations, the app works on- and off-line on mobile phones and tablets. The app contains each set of standards, with links and cross-references between them, as well as news and training updates for each initiative.
All content in the HSPapp is available in English, with some standards also accessible in French and Spanish. The app is available for free from the Apple App Store, Google Play, and soon also from the Microsoft Store.
The HSPapp is a product developed by the Humanitarian Standards Partnership (HSP), whose members include the Alliance for Child Protection in Humanitarian Action (The Alliance); Cash Learning Partnership (CaLP); Inter-agency Network for Education in Emergencies (INEE); Livestock Emergency Guidelines and Standards Project (LEGS); Small Enterprise Education and Promotion Network (SEEP); and Sphere.
"We are delighted at the launch of this app, which will first and foremost support practitioners working in disaster zones with limited or no connectivity," says Sphere Executive Director Christine Knudsen.