The LEGS Approach
LEGS is underpinned by a livelihoods approach and based on three livelihoods objectives:
Providing immediate benefits to crisis-affected communities
Protecting the livestock assets of crisis-affected communities
Rebuilding the livestock assets of crisis-affected communities
With a global scope, LEGS focuses on the process of identifying needs and analysing which interventions are most appropriate to support the livelihoods of the affected populations, at which times, and in which emergencies. Importantly, LEGS recognizes that climate change is resulting in more complex and unpredictable types of disaster.
2nd Edition Handbook Content
The first three chapters focus on general principles and decision making.
Chapter 1 provides an overview of emergencies, livestock and livelihoods.
Chapter 2 presents the eight LEGS Core Standards and four cross-cutting themes.
Chapter 3 provides guidance and tools for initial assessment and identifying an appropriate emergency response.
The remaining chapters focus on the six technical intervention areas (namely: destocking, veterinary support, feed, water, shelter, and the provision of livestock), and include:
The implications of selecting a particular technical option or activity
Links to the cross-cutting themes and LEGS livelihoods objectives
Standards, Key Actions and Guidance Notes
Indicators for monitoring and impact assessment
Sources of further information, including existing guidelines, technical briefs and toolkits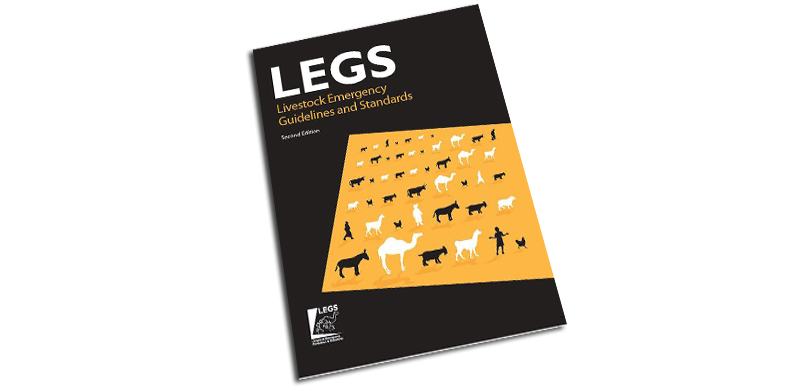 The LEGS Handbook provides standards and guidelines for appropriate and timely livestock-based livelihoods responses in emergencies, using a participatory and evidence-based approach. The Handbook was produced through a broad consultation process, drawing on good practice worldwide. The LEGS Handbook is a companion to The Sphere Handbook alongside other humanitarian standards which make up the Humanitarian Standards Partnership.
Download Now