LEGS is underpinned by a livelihoods approach and is based on three livelihoods objectives:
Providing immediate benefits to crisis-affected communities
Protecting the livestock-related assets of crisis-affected communities
Assisting the re-building of key assets among crisis-affected communities
LEGS has a global scope and focuses on the process of identifying needs and analysing which interventions are most appropriate to support the livelihoods of the affected populations, at which times, and in which emergencies. LEGS recognizes that climate change is resulting in more complex and unpredictable types of disaster.
Hence guidance on options ('decision-making trees') forms the basis of the main sections, with references to where detailed technical guidelines and other materials may be obtained. The key technical areas covered within the three livelihoods objectives are: destocking, veterinary care; supplementary feeding; provision of water; livestock shelter and settlement; and provision of livestock or restocking.
Each chapter covers the implications of selecting a particular technical option or activity; cross-cutting issues such as environment, gender, HIV/AIDS, and security; indicators and issues for impact assessment; links with the Sphere Standards; case studies; and sources of further information, including existing guidelines, technical briefs and toolkits.
The LEGS Handbook was revised during 2013 and 2014, using a consultative process based on the LEGS website and Mailing List – click here for more details. The second edition of LEGS was published in early 2015.

LEGS, the Sphere Project and the Humanitarian Standard Partnership
HSP activities to-date include a joint stand in the Exhibition Centre of the World Humanitarian Summit in Istanbul in May 2016; preliminary discussions for joint coordination at national level in Ethiopia and Myanmar; and initiation of the development of a joint standards app for mobile phones and tablets. The pilot version of the app should be available for testing in early 2017.
For more information on the Humanitarian Standards Partnership, download the HSP Brochure.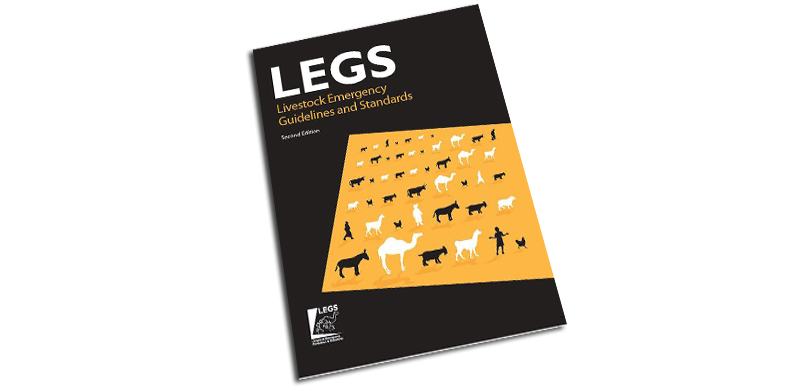 The LEGS Handbook provides standards and guidelines for appropriate and timely livestock-based livelihoods responses in emergencies, using a participatory and evidence-based approach. The Handbook was produced through a broad consultation process, drawing on good practice worldwide. The LEGS Handbook is a companion to the Sphere Handbook.
Download Now